You can use your camera and microphone for sites in Chrome. In order to hear and be heard, you will need to allow Chrome/Firefox/Edge. To use your hardware.
Steps to allow the use of camera and microphone:
Open Chrome .
Go to live.kudoway.com , live.kudoway.eu or asia.kudoway.com (accessing the meeting will redirect you to the right domain, so if you are not sure, just access the meeting link). If you are just testing your connection, you will need to access:

When prompted, choose Allow.

Allowed sites: KUDO can use your camera and microphone while on our test page. The same might be necessary when accessing a meeting.
Blocked sites: Some sites won't work if you block your camera or mic while you are checking them. For example, you won't be able to join a KUDO video conference.
If you are not been prompted to allow your camera/microphone to be used, it's most likely that you have previously not allowed them to be used on KUDO.
A quick fix for that is to click on the padlock icon from the URL bar,

once done, the below screen will appear. Make sure that your Camera and Microphone are set to Allow like on the screenshot below.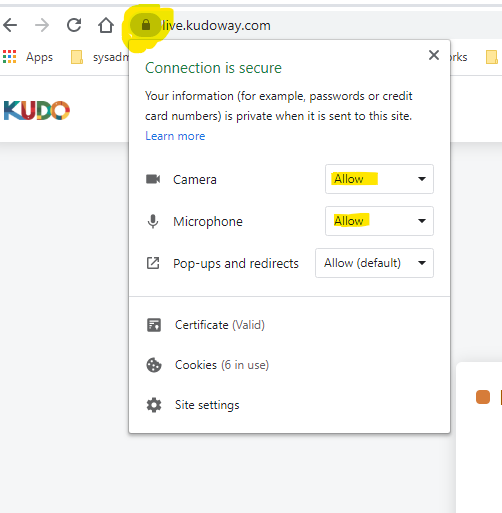 For the Firefox browser, make sure to check this link, where there is a similar tutorial. If everything is ok, and the camera/microphone is still not working, make sure to check your OS settings as explained here.