1. Start here to book KUDO interpreters for your Zoom meeting.

2. Select the languages you need to be interpreted during your meeting.

Eligible languages: Arabic, Chinese, French, German, Hindi, Indonesian, Italian, Japanese, Korean, Portuguese, Russian, Spanish, Thai, Turkish, and Vietnamese

Once you fill out the meeting languages and click on the continue button you will be taken to a sign-up page, to create an account, or log in.


3. You will be asked to verify your email address. Check your email from sender support@kudoway.com, then click Confirm email.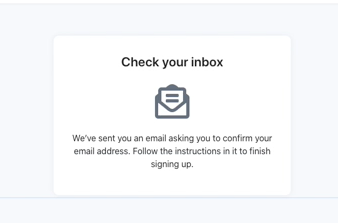 4. Once your email is confirmed you can log in.
5. After logging in you will be directed to fill out your meeting details

Date: The date text will adjust to your IP's location. The next calendar day will be pre-selected. The current day can be chosen if the user clicks and selects the current day. The date in the past is not clickable.
Time: The time zone defaults to the user's browser time zone. By selecting a time that is any time before 2 hours, you will get an error message saying the "Start time must be at least 2 hours from now".
Duration of your meeting: You can select 1 hour, 2 hours, 3 hours, 4 hours, 5 hours, 6 hours from the + -, meetings can be supported up to six hours in length. By clicking + after 6 hours, you will see the following message: "Need to book a longer meeting? Contact us". Field is not editable; you cannot type in numbers. This means you will need to be contacted by the KUDO sales team to organize your meeting.
Zoom Account Type: Select if you have a Zoom Basic/Pro Account or if you have a Zoom Business Account.
6. You will then confirm your languages, choose one of the listed subject matters listed below, and give any further information about your meeting.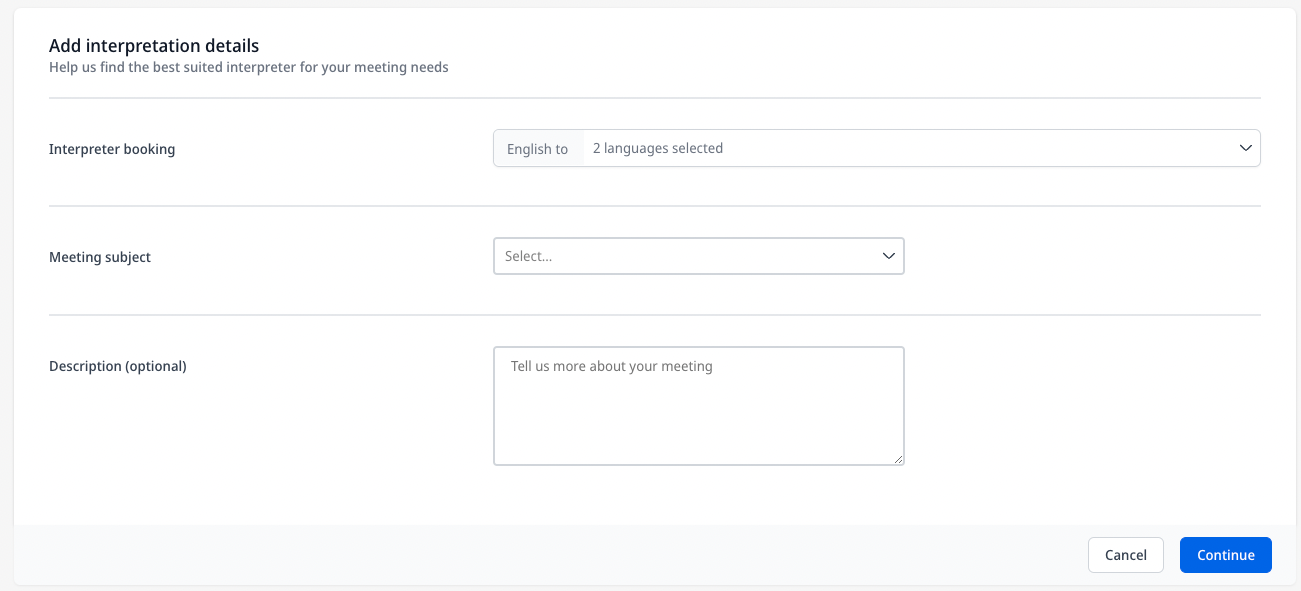 Animals / Veterinary,

Art / Culture

Automotive

Banking / Finance

Business / Trade

Community Service

Engineering

Entertainment

Farming / Agriculture

Fashion / Apparel

Food / Beverages

Gaming

Government / Diplomacy

Healthcare

Human Rights / Activism

IT / Technology

Immigration

Insurance

Intergovernmental

Internet / e-Commerce

Legal / Litigation

Linguistics

Marketing / Sales

Medical / Dentistry

Military / Conflict

Mining

Non-Governmental

Oil / Gas

Patent

Philosophy / Religion

Psychology / Mental Health

Science

Security / Cybersecurity

Social Sciences

Sports

Telecommunications

Travel
Note: We strongly advise you to fill in the "Description" field, so that the interpreters are better prepared for the meetings' agenda.
7. If you have selected the "Zoom Business Account", you will then be asked to authorize KUDO to access your Zoom data. Text explaining how your Zoom data will be accessed will pop up. Those who have selected the "Zoom Basic" will skip this step.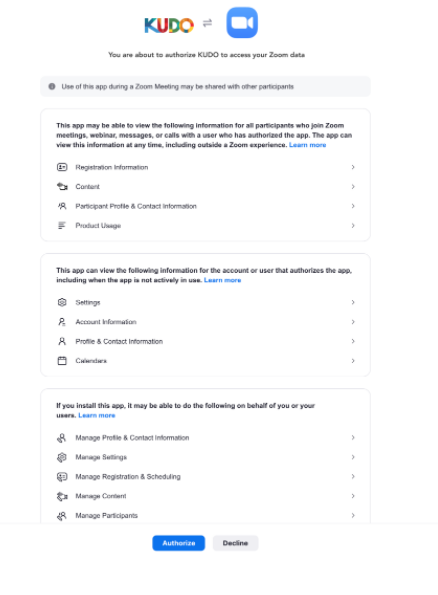 8. You will then be taken to the payment page, where you will be able to view your meeting details and enter your payment information. If you are a returning user and have KUDO credits, your credits will be used, and you will not be charged if you have sufficient credits.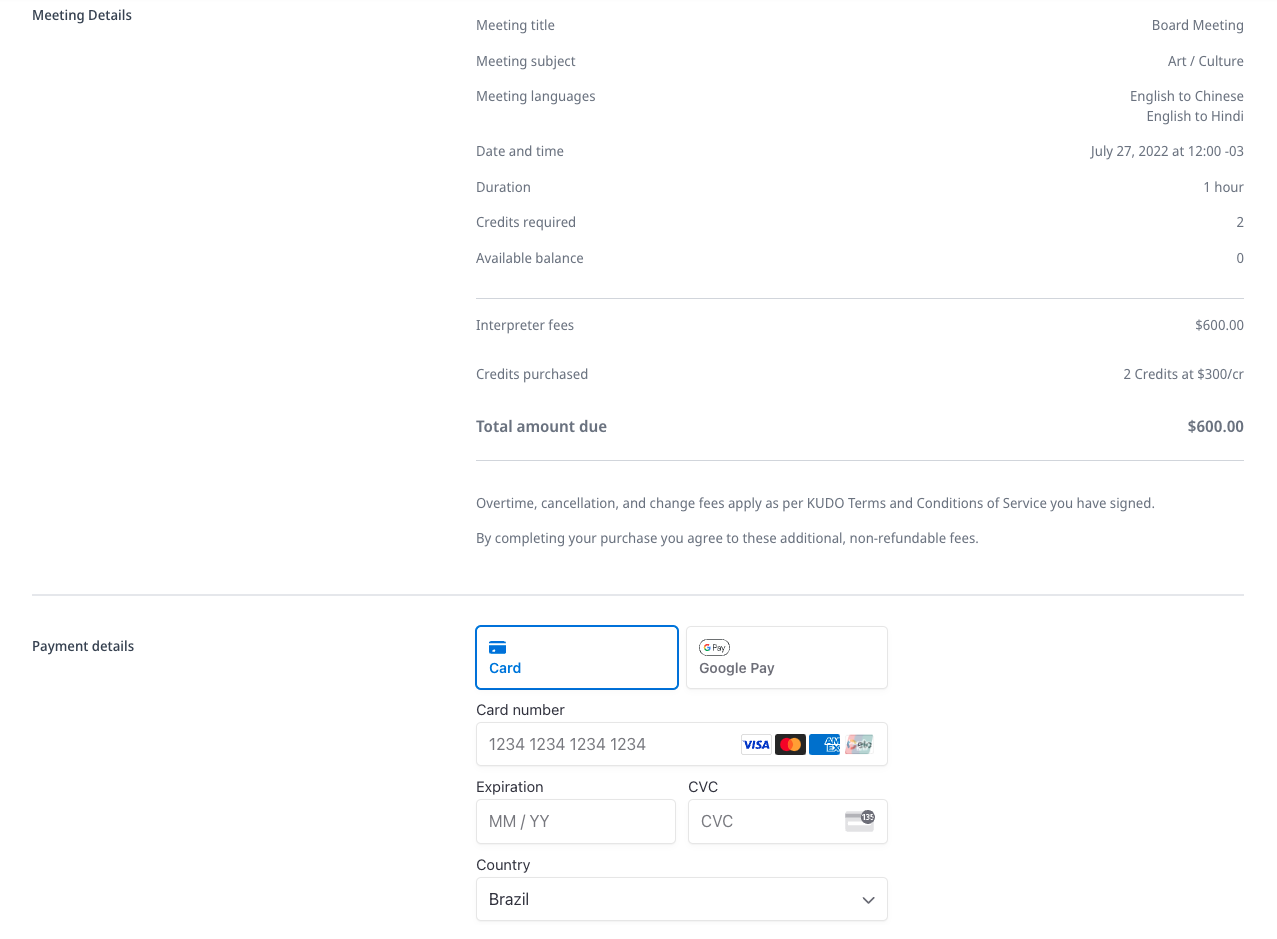 9. After paying, you will be directed to the meeting confirmation screen.
You can view your specific meeting details and learn what to expect during the meeting. You can also add your meeting directly to your Outlook or Google calendar by clicking the corresponding links below.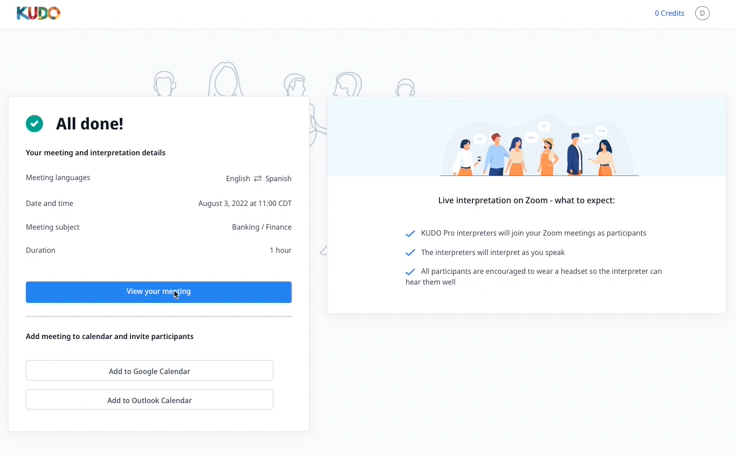 10. Once you click on view your meetings, they will be taken to the meeting details page which will show that the meeting is now booked.
At any time before the meeting, you can upload preparation materials (files and or links) that will be shared directly with the interpreter by clicking on the upload button on the right side of the screen.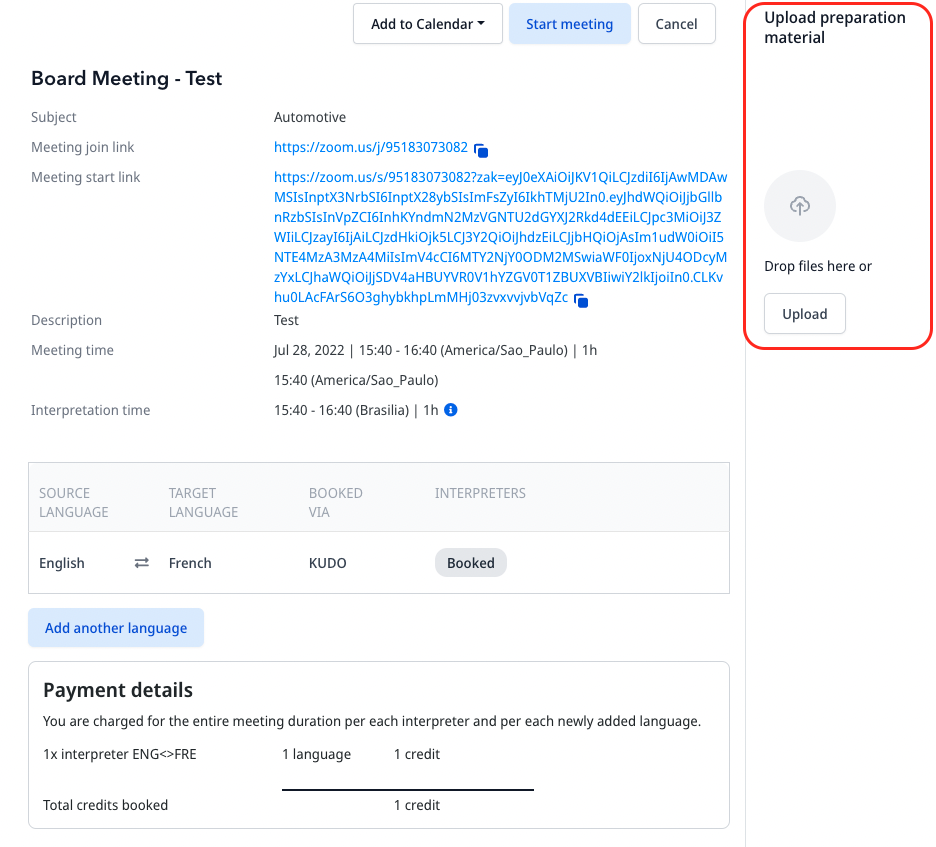 11. Once a KUDO interpreter accepts your meeting, you will receive an e-mail and see the status of the interpreter and the meeting details page.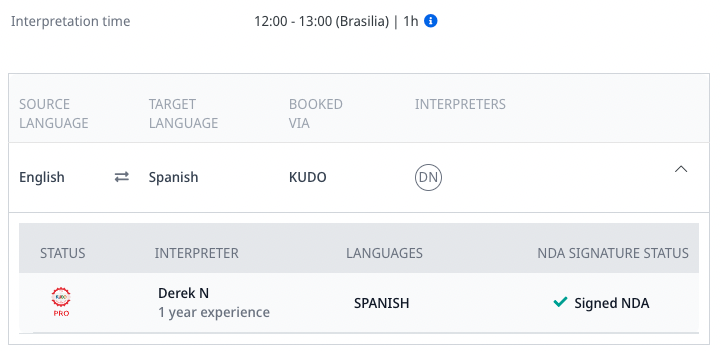 12. When the time of the meeting comes, click "Start meeting" to begin a Zoom meeting directly from that page.
As a best practice when working with interpreters, we advise opening and entering the meeting 15 min prior to soundcheck the interpreter(s), they will be notified to do the same.
As the meeting host, you will need to assign the interpreters to the corresponding languages. For more details on how to start the Zoom meeting with interpretation click here.